Zink is een onmisbaar element voor onze gezondheid. Zinksuppletie kan de duur, frequentie en ernst van een verkoudheid gunstig beïnvloeden. Een verband tussen een ernstig beloop van COVID-19 en zinktekort is aannemelijk. Virussen houden niet van zink. Is zink het antwoord op de bestrijding van COVID-19? En wat is de samenhang met het omstreden geneesmiddel hydroxychloroquine?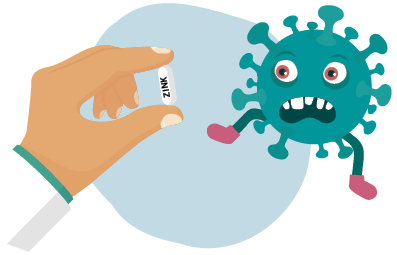 De WHO schat dat twee miljard personen in ontwikkelingslanden kampen met een zinktekort (1). Of zinktekort ook in Nederland voorkomt? Nee, zegt het Voedingscentrum: 'Voor zover bekend komt in Nederland geen zinktekort of zinkoverschot voor' (2). Dat blijkt uit de regelmatig gehouden 'Voedsel Consumptie Peilingen' (VCP's). Hierin wordt gemeten 'wat Nederland eet' (3).
In deze VCP's wordt de zinkinname van de gemiddelde Nederlander geschat en vergeleken met de 'gemiddelde behoefte'. Wat die gegevens niet laten zien, is hoeveel zink wordt opgenomen. Dat is van belang, want de zinkopname in ons maagdarmkanaal is beperkt en varieert met wat je eet (4). Bij het vaststellen van onze zinkbehoefte is uitgegaan van een gemiddelde opname van veertig procent uit voeding (5). Zink halen we vooral uit vlees, melk en granen (3). Een stof die de zinkopname sterk remt is fytaat (4,6). Dat komt ruim voor in noten, bonen en granen (4,7). Oesters vormen de rijkste bron aan zink en de opname uit oesters is goed (6,8,9). Eet je echter 120 gram oesters samen met 120 gram maistortilla's dan verdwijnt de zink uit die oesters regelrecht in het toilet (10,11).
Hoge zinkgehaltes treft men aan in haren, nagels, botten, lever en spieren (4,12). Zink zit vooral in onze cellen (9). We moeten het regelmatig eten, want we hebben er geen speciaal opslagsysteem voor (4,12,13), zoals voor ijzer (14) en de vitamines B12 (15) en D (16,17).
Zink is betrokken bij een duizendtal enzymatische reacties en de werking van meer dan tweeduizend transcriptiefactoren (9). Dat zijn eiwitten die door binding aan ons DNA de expressie van onze genen reguleren. Behoorlijk belangrijk dus. Ook voor ons immuunsysteem (9,13,18,19). Zink wordt ook wel een 'poortwachter van het immuunsysteem' genoemd (18).
Waar zink die titel aan verdient?
Bij een ontstekingsreactie daalt het zinkgehalte in ons bloedplasma acuut (4,20-24). Dat is functioneel en gebeurt bijvoorbeeld ook met ijzer (25). Een mindere beschikbaarheid van zink en ijzer dwarsboomt de infecterende micro-organismen; die hebben voor hun overleving ook zink en ijzer nodig (9,13). Ook andere micronutriënten dalen bij een infectie, waaronder selenium (25) en vitamine C (26). Als de infectie lang aanhoudt krijgen wij er last van: er ontstaat een tekort (27). Voor zink en ijzer vormt zich dan een dilemma. Suppleren helpt de micro-organismen en niet-suppleren veroorzaakt een tekort.
Inmiddels staat aardig vast dat zinksuppletie een gunstige invloed heeft op de duur, frequentie en de ernst van een verkoudheid (27-32). Al langer was bekend dat zinksuppletie bij ouderen verkoudheid en infecties van de bovenste luchtwegen voorkomt (33). Het voordeel bij acute infectie geldt alleen als zink wordt ingenomen binnen 24 uur na het begin van de eerste verkoudheidssymptomen (1). Samen met selenium verbetert zink ook de immuunreactie van ouderen bij vaccinatie tegen influenza (34). Het dilemma voor ijzer neigt naar 'niet-suppleren' bij een infectie met micro-organismen (35,36), maar naar weldegelijk suppleren bij bloedarmoede als gevolg van chronische ziekten, zoals die kan voorkomen bij auto-immuunziektes, kanker en nierfalen (37).
COVID-19
De antivirale eigenschappen van zink maken deze voedingsstof ook tot een belangrijke speler bij een infectie met SARS-CoV-2 (32,38). Een verband tussen een ernstig beloop van COVID-19 en zinktekort is aannemelijk (32,39,39a). Gunstige effecten mogen vooral worden verwacht in de vroege fase als het virus actief is. Dat is tot maximaal negen dagen na het ontstaan van symptomen (39b).
Bekende risico's voor een slechte uitkomst van COVID-19 zijn hoge bloeddruk, diabetes, overgewicht, hogere leeftijd en mannelijk geslacht (40). Deze condities gaan vaak samen met een zinktekort. Patiënten met hoge bloeddruk slikken vaak diuretica ('plaspillen') en die veroorzaken meer verlies van zink via de urine (41). Mensen met diabetes (42,43) en obesitas (44) hebben ook vaak een zinktekort. Diverse studies laten zien dat het zinkgehalte in de weefsels (bloedplasma en haren) daalt met het klimmen der jaren (45-47), vooral in mannen (39). Bij ouderen, ook in het zwaar getroffen Noord-Italië (48), wordt vaak een lage zinkstatus gemeten (45-47,49). Dit is bij hen gerelateerd aan een verslechterd immuunsysteem (45) en overlijden (46). Ook overlijden aan COVID-19 (50).
Hydroxychloroquine is een veelbesproken, en omstreden, middel voor de behandeling van COVID-19. Deze zogeheten 'zink-ionofoor' kan je zien als een handlanger van zink. Het is namelijk een stof die zink de cel binnenlaat (51,52). Hoge zinkgehaltes in de cel remmen de vermenigvuldiging van virussen (32,51-55). Net als bij de andere geneesmiddelen geldt dat goede timing essentieel is. Hydroxychloroquine dient in de vroege fase van de infectie te worden gegeven, en dan bij voorkeur samen met zink. Als mensen al op de Intensive Care Unit liggen is het te laat: in die late fase mag je van hydroxychloroquine alleen maar bijwerkingen verwachten (56,57). Recente gegevens van poliklinische COVID-19 patiënten laten inderdaad zien dat hydroxychloroquine het risico verlaagt van de combinatie van infectie, hospitalisatie en overlijden. En dat zonder ernstige bijwerkingen (58,59).
Is zink nu het antwoord op COVID-19? Helaas is dat onwaarschijnlijk. Het gaat nagenoeg nooit om een enkel nutriënt, maar om de samenhang tussen stoffen in een subtiel evenwicht (27,38,60-68,68a). Er zijn meestal meerdere zwakke schakels. Voor het versterken van het immuunsysteem bestaat momenteel het sterkte bewijs voor zink en de vitamines C en D (27).
Een Amerikaanse groep wetenschappers lanceerde reeds in april 2020, dus vanaf het begin van de pandemie, het 'MATH+ -behandelprotocol'. Het betreft een combinatie van methylprednisolon (een ontstekingsremmer) en laag-moleculair heparine (een anti-stollingsmiddel) met de natuurlijke stoffen vitamine B1, vitamine C (intraveneus), vitamine D, zink en melatonine (69-71). Orthomoleculaire geneeskunde in zijn meest pure vorm! Je 'corrigeert een defecte biochemie met de juiste moleculen of essentiële nutriënten op het juiste moment' (62). President Donald Trump werd met diverse elementen uit dit protocol behandeld, waaronder zink, vitamine D en melatonine (72,73). In de twee centra die het MATH+-protocol gebruikten, was de sterfte aan COVID-19 gemiddeld 5,1 procent. Ze behandelden meer dan 300 patiënten. De gemiddelde sterfte in andere centra was 22,9 procent. Dat is dus een absolute risicodaling van 78 procent (71). Het standpunt van de WHO anno december 2020 is dat er geen bewijs is dat vitaminen en mineralen COVID-19 kunnen genezen en dat hydroxychloroquine geen klinische voordelen biedt (74). Van een dergelijke invloedrijke organisatie mag meer nuance worden verwacht. COVID-19 laat op pijnlijke wijze zien dat, bij paniek, onze enorme kennis van werkingsmechanismen een ondergeschikte rol speelt in een intelligente keuze van medicamenten en al helemaal geen rol speelt in de logische keuze van volstrekt normale voedingsstoffen.
Prof. dr. Frits Muskiet is emeritus hoogleraar Pathofysiologie en Klinisch Chemische Analyse. Eerdere columns van Muskiet vindt u hier. De columns zijn eerder verschenen in ons ledenmagazine Uitzicht.
MMV maakt wekelijks een selectie uit het nieuws over voeding en leefstijl in relatie tot kanker en andere medische condities.

Inschrijven nieuwsbrief
Referenties